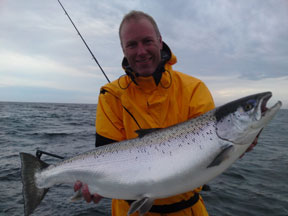 Salmon trolling
Calender:
April - May - Simrishamn, Skåne and Karlhamn, Bleking south of Sweden
June, Nynäshamn or Understen by Singö
Juli-Aug - Blekinge Karlshamn and Hasslö
Book now: bjorn.sperling@gmail.com or 0735 30 33 10

bjorn.sperling@gmail.com
Tel. +46 735 30 33 10

Trolling is a method of fishing where one or more fishing lines, baited with lures or bait fish, are drawn through the water. This may be behind a moving boat, or by slowly winding the line in when fishing from a static position, or even sweeping the line from side-to-side, eg when fishing from a jetty. Trolling is used to catch salmon in the greater lakes of Sweden and in the Baltic Sea.
Trolling from a moving boat is a technique of big-game fishing.
Trolling from a moving boat involves moving quite slowly through the water; this may be accomplished by use of a special trolling motor.
Many anglers troll for some or most of their fish. Trolling is the way to catch trout and salmon on lakes and reservoirs; it is the method on some muskie waters. It is a valued technique for walleye, an overlooked method for black bass, and an important means of catching striped bass. In saltwater, trolling is a critical method for catching many pelagic species, especially billfish, and important for pursuing many inshore species, including kingfish, bluefish, and various jacks. There is plenty of science and drama involved, whether the quarry is blue marlin, chinook salmon, walleye, or dolphin.[1]
Book now!